Assess your learning needs
The most important thing you need to do is to set specific objectives for your holiday revision. For instance, to finish revising the microeconomics module from the last term, or prepare for the upcoming term's content of integration and differentiation. With clearly defined objectives, you will find it much easier to plan your monthly, weekly, and then narrow down to daily tasks to achieve your targets.Another factor to keep in mind is how far you've progressed in your studies. Are you able to keep up with the pace of your school? It's also a good idea to consider your study methods and see if they're really working for you.
Consolidate your study materials
To make the most of your revisions, you must first organize all of the materials you currently have. These include exam papers, lecture notes, and tuition assignments that you will be using. Make an index of your materials, as well as mark out the subjects you've struggled with, so that you have access to all materials during your revision period.
It's a good idea to gather some things for study on the go, especially if you'll be traveling abroad this holiday. Going digital, such as using your iPad and revising with your smartphone app, is one option to make use of the short breaks during your vacation. If you don't have any, make some easily portable notes to take with you.
Fix your study plan
Determine the plan for your revision. For example, your daily revision could involve revising your lecture notes, practising the 2020 IGCSE or IB exam paper, or even writing the first draft of your Internal Assessments that will be soon due. Breaking down big tasks to small, manageable portions will keep you away from procrastinating and get you one step closer to your holiday aims!
Revision timetable apps
These two well-known apps can assist you in organising and planning your revision timetable. They provide study timetable templates to use as a starting point, as well as a slew of other useful features. Here are some examples:
My Study Life: an app that you may use all year long, not only during the revision season. Organise your daily and weekly calendar by keeping track of homework and assignments. Everything is saved in the cloud so that it may be accessed from any device.
Use Google Calendar. A digital calendar is likely to be with you at all times. Why? You don't leave the house (or anywhere) without your smartphone. To avoid those 3 hour long gaming/social media browsing marathons, you must know what you're going to be doing each day and when you're doing it. Google Calendar allows you to make alterations in a neat and tidy manner.
Prioritise Your Subjects/Topics
The following phase necessitates some self-reflection. You must determine which subjects you are now most and least confident in.
Making a list is the best approach to go about it. Write the subjects in which you are the weakest at the top and the subjects in which you are the strongest at the bottom. As a reminder, assign a number to each of them when entering them into your schedule. See the screen shot below for an example. If you're only studying one or two subjects, repeat this activity for each of those subjects' modules or topics.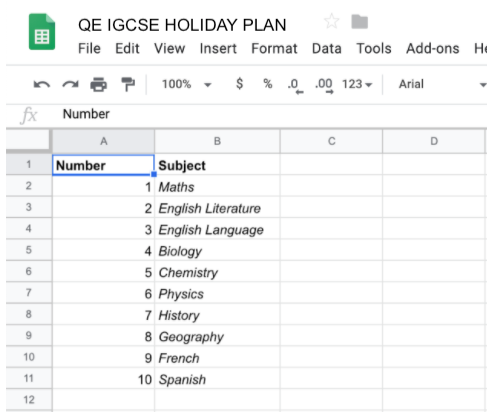 When you're making this list take into account a couple of other factors such as:
The amount of material that must be learned in each subject.
Within each subject, make a note of the weightings.
The order in which your exams are scheduled (if you have it already). Because of their placement within your exam schedule, you'll have more time to revise some courses than others.
What your present grades are — for example, if your Physics grade is abysmal, you might want to put it ahead of the English Literature class in which you've already nailed 60 percent of the coursework (if applicable).